Michel Bruneau, P.E., P.Eng.

F.ASCE

,

is Professor in the Department of Civil, Structural, and Environmental Engineering at the State University of New York at Buffalo, and an ASCE Fellow. He is a member of various AISC and CSA committees developing seismic design specifications for bridges and buildings. Dr. Bruneau has conducted extensive research on the evaluation and retrofit of existing steel structures subjected to large destructive forces. He has authored more than 400 technical publications and has received many awards for his work.

Prof. Michel Bruneau, is the recipient of the

2011 ASCE-George Winter Award

for his contributions to structural engineering and seismic hazard mitigation and his contributions to creative fictional literature which succeed in telling the hazard mitigation story to a broader audience. Recently he received the

2012 T.R. Higgins award

from

American Institute of Steel Construction

( AISC).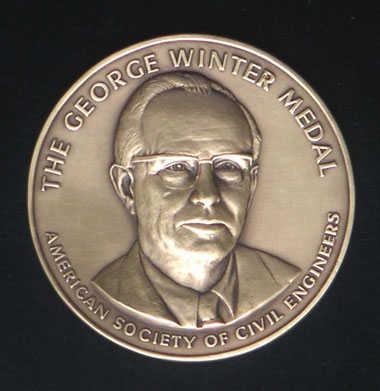 Professor Bruneau's research on steel plate shear walls has been ground-breaking and has largely shaped current seismic design requirements for the system. His research on multi-hazard resistant bridge bents has resulted in the development of recommendations for design requirements for composite steel-concrete bridge bents for both seismic and blast loads.

He has led a large research program on the seismic evaluation and retrofit of steel truss bridges, which began with a comprehensive study of riveted bracing members often used in truss bridge piers. That research was extended with the development of a rocking approach for truss bridge pier retrofit and the development of an eccentrically braced frame with self-stabilizing links that are not subject to lateral torsional buckling and thus can be used in planar piers where lateral bracing is difficult to provide. The latter work has resulted in seismic design requirements and included in the the AISC Seismic Design Provisions.

In addition, Professor Bruneau has also been an exceptional educator, supervising research of post-graduate students and as an excellent classroom instructor. While Professor Bruneau has a long and successful technical career, what makes him particularly suited for this award is his success as a writer of fiction, which addresses the artistic and social needs of the community.


His book

Ductile Design of Steel Structures

,

Second Edition, McGraw-Hill

, reflects the latest plastic and seismic design provisions and standards from the American Institute of Steel Construction (AISC) and the Canadian Standard Association (CSA). The book covers steel material, cross-section, component, and system response for applications in plastic and seismic design, and provides practical guidance on how to incorporate these principles into structural design. The second edition of the book contains three additional chapters on buckling-restrained braced frame design, steel plate shear wall design, and hysteretic energy dissipating systems and design strategies.


In addition, Professor Bruneau has written two novels, one in English and one in French, both of which have received critical acclaim. From this background in seismic engineering, Professor Bruneau developed for his latest novel "

Shaken Allegiances

,

CePages Press

" the story of an earthquake event in an unprepared city, resulting in a breakdown of societal systems and exposure of human behavior. This book received the Grand Prize for Fiction fromthe Next Generation

Indie Book Award

s, which has been said to be the 'Sundance'of the book publishing world. and


1st Place, Regional Fiction


, 2010 Next Generation Indie Book Awards.



To read more, visit:

http://www.michelbruneau.com/index.htm