Retiring professor donates his unused sick leave so Mines can continue work on concrete programs
051013-nws-professor001.jpg

Benjamin Brayfield, Rapid City Journal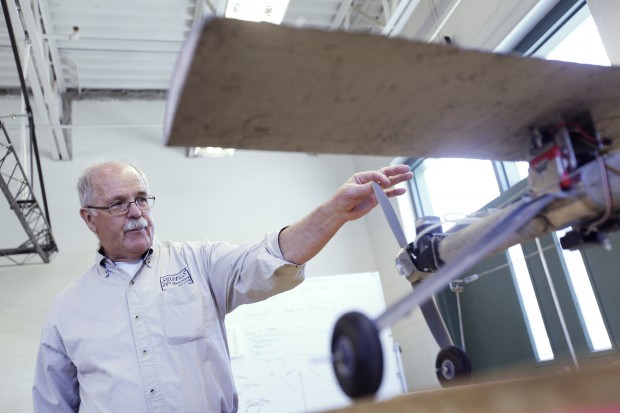 Dr. Marion Hansen explains the mechanics of an airplane made with high-performance concrete

. He has inspired his students at South Dakota School of Mines & Technology to fly and successfully land this concrete airplane.
May 11, 2013 6:30 am •

Marion R. Hansen has spent the past 28 years making the world a better place one student and one batch of concrete at a time.

The professor of civil and environmental engineering is retiring June 21 from South Dakota School of Mines & Technology, but his legacy will endure thanks to an endowment he is creating with his accrued sick leave and the continuation of his cutting-edge concrete research.



His research has focused on finding unusual and innovative ways to use concrete — everything from concrete canoes to concrete planes and concrete that automatically fixes its own cracks.



Self-healing concrete is just the latest innovation to come from Hansen and his students.

When concrete cracks, water seeps into the crack and activates unhydrated pieces of cement inside the structure, resulting in the crack being fixed. And some results show the fixed structures are even stronger than before, Hansen said.

He has also installed around Rapid City concrete that allows water to pass through it and reduces runoff.



Green concrete is another innovation from Hansen

. It uses ash from the flue of coal-burning plants to replace some of the cement in the concrete mixture.



And Hansen recently advised a group of students who made aeronautical history by flying and landing the first concrete airplane.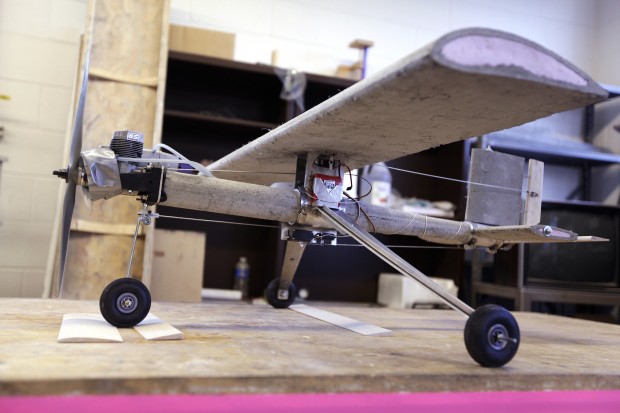 Dr. Marion Hansen taught students at South Dakota School of Mines & Technology to build and fly this concrete airplane.


He is a powerful evangelist for all things concrete.

He walked about his lab Thursday pointing out items of interest in a large area with surfaces covered in a thin layer of gray dust settled from countless batches of concrete mixed by students trying to perfect the precise proportions of cement, crushed rock, sand, water and mixtures of carbon fiber or fly ash.

He showed off the concrete canoe that won Mines a national championship in 1995. Out back behind the lab, a pile of concrete slabs and pillars and broken pieces sits as a monument to the work of this semester's students.

"We like to break things," Hansen said of his classes' concrete experiments. "Make it and break it; that's our mantra."

The professor, who worked as an engineer and at a small engineering college before teaching at his alma mater, will soon cement a funding stream for research and competitions for his current students and generations to come.

He took an unused-sick-leave payout of $20,000 after taxes and started an endowment. He hopes to match it by raising $20,000 more through a series of themed retirement parties and fundraisers.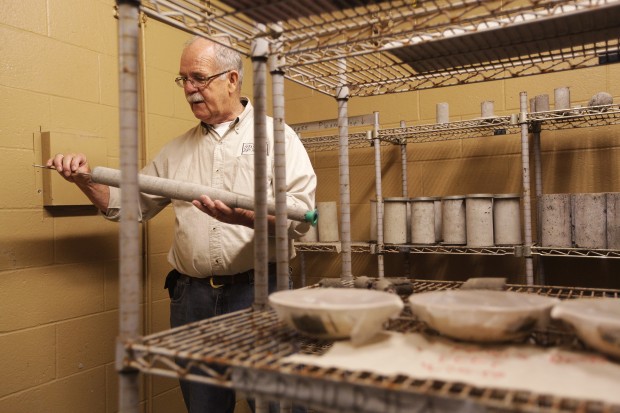 Dr. Marion Hansen works in the drying room at South Dakota School of Mines & Technology, where students use concrete to create objects.


"Having a lot of money makes me nervous," Hansen said. "I figured the best thing to do was pay the taxes on it and give it to the school. We don't get any money at all from the state taxpayers. All of it comes from student money or fundraising, with a little bit from student fees. Every year, the ASCE student chapter needs $20,000 just to operate."

His endowment will allow the Mines student chapter of the American Society of Civil Engineers and the Department of Civil & Environmental Engineering to continue participating in the annual concrete canoe competition and steel bridge competition while also giving the department money to cover operating costs.

"When we go to regional competition, we dominate," Hansen said of the canoe event. "It's not bragging if it's fact. We stomp on them."

The competitions are important because the students learn things that can't be taught in a classroom.

"They do it to learn something, prove a point, answer a challenge," Hansen said. "They learn teamwork. All the companies want teamwork from their employees now. They need to be able to make a plan, meet a timeline and work within a budget."

His students also recently made aeronautical history by flying and successfully landing the world's first concrete airplane.

The plane, with a 40-inch wingspan, is built of a high-performance concrete that is a light mixture with carbon fiber reinforcement. Hansen and Lidvin Kjerengtroen advised three students who worked on the plane for more than a year as their senior project: mechanical engineering majors David Haberman and Tyler Pojanowski, and Seth Adams, a civil and environmental engineering major.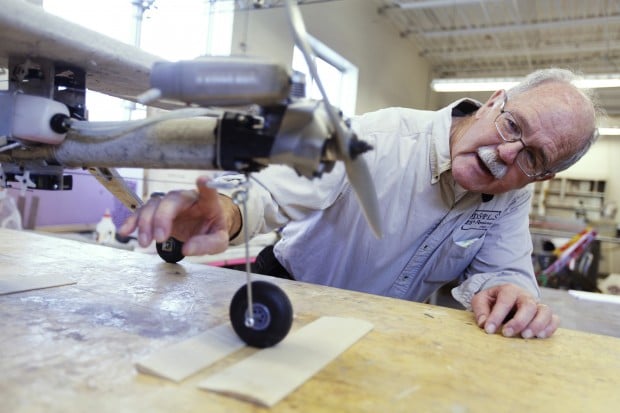 Dr. Marion Hansen explains the mechanics of an airplane made with high-performance concrete.


Not only did the school make history, but Hansen won some bragging rights. He beat out a good friend at Embry Riddle University, a school known for aeronautical excellence.

Hansen and his friend, Dr. Mark Fugler, had a friendly competition to see who could fly and land the world's first concrete airplane. Hansen credits Fugler as the inspiration for the idea. They plan to meet in two years for the first annual concrete plane exhibition.

That is, after Hansen takes his skills to Mongolia, where his next challenge will be to teach concrete while his wife teaches English.

"It's a developing country, so they need to build lots of roads, bridges and buildings," Hansen said. He said he hopes to use the latest advances in his concrete research to help the country make structures that will last.

Another hope Hansen has for the future of Mines is for the school to secure more money available for research. Research funding for concrete is a touchy subject for him.

"It's not glamorous," he said. "And they're (federal funding sources) tightwads. We spend thousands of taxpayer dollars on things like bridges and roads. We should make sure they are going to last."

"They just don't appreciate good old concrete."

P.S.

It is interesting to note that our Prof. V. Ramakrishnan is also working in South Dakota School of Mines & Technology





Source:

http://rapidcityjournal.com/news/retiring-professor-donates-his-unused-sick-leave-so-mines-can/article_3f1300ae-c8a6-58ac-adaf-e9317722a925.html