The Innovation, science, and Technology (IST) Building at Florida Polytechnic University, designed by Santiago Calatrava




The brand-new campus of Florida Polytechnic University, created by an act of the state legislature, sits in what was very recently farmland about 50 miles southwest of Orlando. The Innovation, science, and Technology (IST) Building designed by the famous Spanish architect Santiago Calatrava, of this University, is a 15,050-m2, oval-shaped, two-story building with a price tagg of $60 million (Calatrava's firm earned $13 million from this project). It houses offices for faculty and the university's president as well as 26 classrooms, The 1022 m2 Saddle Creek Logistics 'Commons', seven innovation labs–including a 3D printing lab, cyber security lab, and health informatics lab–where students are able to get hands-on experience with the latest technology. The building is also home to the school's digital library, which has already attracted headlines for not including a single printed book.

A hydraulic brise-soleil admits daylight when open
White concrete ribs establish a clear structural rhythm within the school building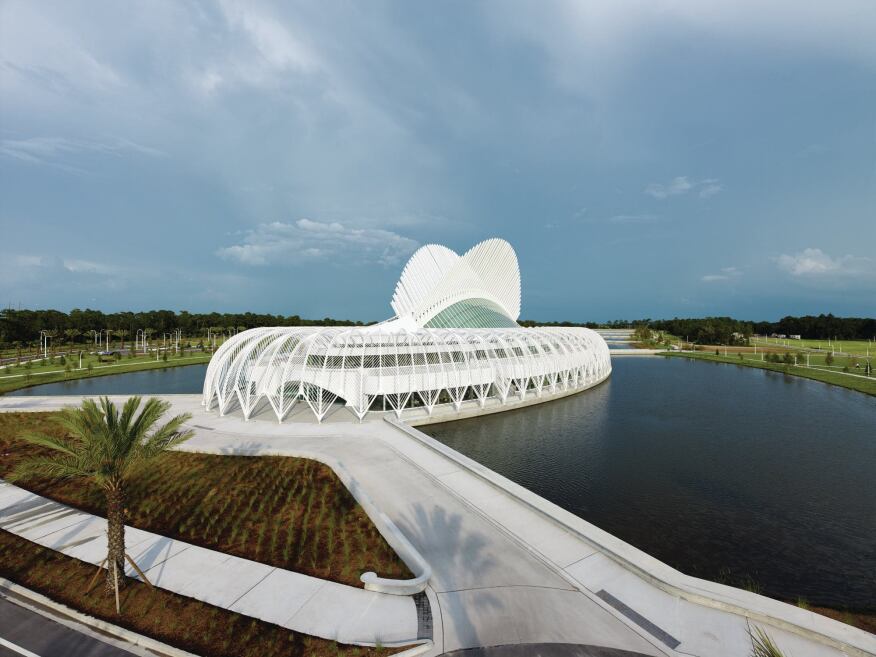 The IST marks one end of a linear lake, which will eventually be developed with further academic and dormitory buildings


The building includes 94 robotic louvers on the roof that move to accommodate changing sunlight patterns.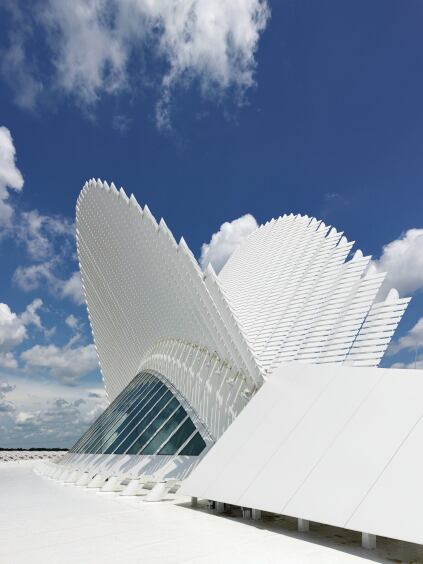 The hydraulic shading system



In plan, the building is straightforward and elegant. Two double-loaded corridors lined in polished concrete, one at ground level and another on the second floor, curve in a gentle oval arc around the building. The lower one opens onto classrooms on its outer edge and to studio space, labs, and an auditorium in the center of the building. Upstairs, the corridor has faculty and administrative offices on the outside and, to the inside, some small conference and study rooms as well as the building's functional and architectural heart: a multipurpose library and study space with a soaring ceiling that is known as "the Commons." Two grand staircases, one on each end of the oval, lead to the upper floor.



The skylight above the Commons is shaded by a complex system of aluminum louvers that can be raised or lowered depending on the intensity and position of the sun; When the louvers were down they cast a series of geometric shadows onto the floor and at the same giving the room plenty of natural light.

This roof system—at 76 m is twice as long as the one at the Milwaukee Art Museum (which was also designed by Santiago Calatrava).




The 1022 m2 multipurpose Commons room: a multipurpose library and study space with a soaring ceiling


The exterior of the building is ringed by pergolas, covering and lightly shading an upper terrace and a wide walkway at ground level.

A white-painted pergola shades an outdoor terrace and plaza while reducing solar load on the building
All photos by Alan Karchmer
Source:


Back Cover page of Kattumaanap Poriyaalar (Tamil) Magazine, Nov. 2019 issue

Hawthorne, C., Florida Polytechnic University, Designed by Santiago Calatrava -Will Santiago Calatrava's Innovation, Science and Technology building help repair the architect's troubled reputation?- https://www.architectmagazine.com/design/buildings/florida-polytechnic-university-designed-by-santiago-calatrava_o